MD's Message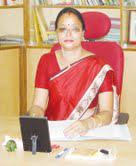 SSEPL, with 15 years of rich experience in the field of skill development training has been the hub of attraction for many budding entrepreneurs. We at SSEPL seek to implement all our training programs in an innovative way so that thousands of students from multifarious backgrounds can earn good jobs for themselves.
Taking the perspective of young people, a 'good job' is a job that initiates a long term investment in and attachment to the labor market. A job combined with formal training is by definition a good job. Skill development training at SSEPL enables them to get these jobs.
We have imparted career developing technical trainings like VLSI, AutoCAD, Innovex, Java, CCNA, Robotics and BEC to make engineers employable. SSEPL has also been a part of several corporate trainings and the trainings offered by the Govt. of Odisha. We also have programs for housewives under the scheme of Women Empowerment Programs. We also organize summer camps for children during the break from their academic sessions. Presently our focus is on the rural skill development training programs aimed at the development of the rural youth.
With the approval from NSDC, we have taken up several projects of Orissa State Employment Mission Society for the uplift of the marginalized sections. All these training programs offered to the rural youth are placement linked and training is imparted in different trades. In a country like India, where finding a job is a challenge, our skill based training programs provide them adequate opportunities in the job market. Internships with employers and hands-on training with the active use of latest technology help them to have an edge over their competitors.
We have an established training in the latest technical programs as per the industry demands under expert faculty. Along with this crisp, exceptional personality development and soft skills training, programs are delivered to make them completely equipped.
Staff development and training efforts that reflect the values and underpinnings of the organization are at the foundation of respectful and good learning environments. Our experience in training shows that our staff are able to employ strategies and methods to create these environments.
At SSEPL, we have effective training programs for every section of society and for every age group and it is our endeavor to make everyone capable of achievement.
I invite you to browse the website and find out more about our training programs.
Shailja Rout